Il DVD "Experience + Innocence Live In Berlin" UPDATE 30 MARZO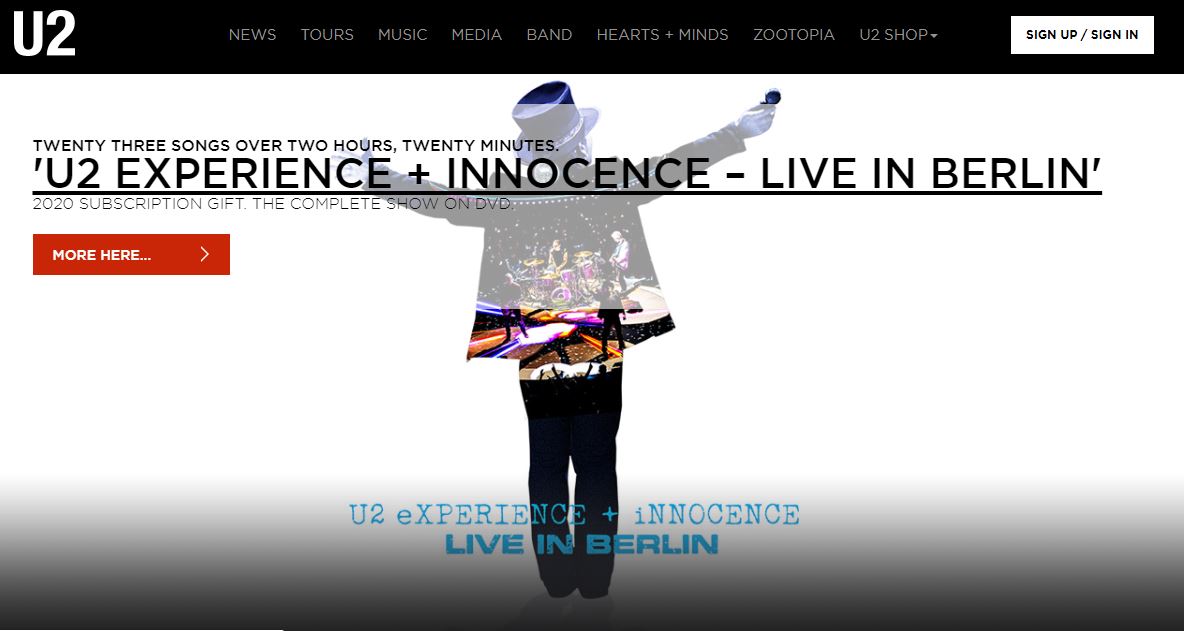 UPDATA 1 MARZO 2020
La mailing list di U2.com arrivata in queste ore, parla di dvd in spedizione da maggio e visione in streaming per tutti i sottoscrittori ad U2.com
Di seguito la mail ricevuta:
Something a bit special coming up in March, to mark Adam's birthday. We'll be hosting the premiere of 'U2 eXPERIENCE + iNNOCENCE – LIVE IN BERLIN' and inviting all subscribers to join us for a live streaming party.Our Zootopian team will be online to join in the conversation when everyone is invited to share their memories of the tour - photos, tweets, reviews, live chat as the entire show - all  142 minutes and 23 songs -  happens all over again.For those who can support it, streaming in stunning 4K UHD and 5.1 surround sound. (If that's not you, maybe you know someone who does… someone who might even host a premiere viewing party.)
We'll have some very collectable giveaways up for grabs during the premiere - and of course, it being a big weekend for our favourite bass man, we'll be inviting everyone to share their stories and photos of the one and only Adam Clayton.Confirmation of timings on the premiere arriving this coming week.Once we've aired the premiere, 'U2 eXPERIENCE + iNNOCENCE – LIVE IN BERLIN' will be available on demand for the duration of your annual subscription.And in other news, for those - and we gather that's a lot of you - who prize the physical over the digital, dispatch of  the DVD and the accompanying booklet of the show will begin in May
.
E' di stasera l'annuncio del gift 2020 previsto per gli abbonati a U2.com
Sarà l'
intero concerto di Berlino del 13 novembre 2018
, a comporre il dvd le 2h22m, diretto da
Matt Askem
. A completare la confezione anche un book con foto esclusive di
McGrath
, grafico di lunga data della band con la supervisione di
Gavin Friday

Ricordiamo che quella sera era il recupero della data del 1 settembre, sospesa alla quinta canzone durante Beautiful Day, per problemi alla voce di Bono.
U2.com comunica che entro febbraio comunicheranno tutte le date di spedizione, ben sapendo di essere ancora in mezzo ad un mare, per quanto riguarda la disastrosa gestione della spedizione del gift 2019.