U22: video e prime foto del booklet - [UPDATE: 8 nuovi download!]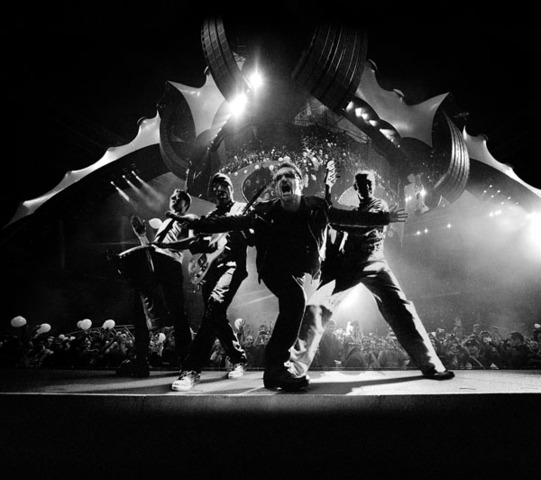 Mentre gli iscritti ad U2.com sono in attesa di ricevere la compilation
U22
, il sito rende pubbliche le prime
IMMAGINI
del
booklet
.
A questo
LINK
inoltre si possono trovare gli estratti
VIDEO
pubblicati durante questo periodo di attesa.
Per ora la lista Ŕ composta da:
Even Better Than The Real Thing
The Fly
Mysterious Ways
Magnificent
Until The End of The World
I Still Haven't Found What I'm Looking For
UPDATE 28/05: One Tree Hill
Ricordiamo che il cd sarÓ composto da 22 tracce registrate durante il 360 tour e scelte dagli stessi fans.

Ecco la tracklist con le informazioni sui concerti da cui sono state prese le canzoni: (in continuo aggornamento):
DISC ONE 1. EVEN BETTER THAN THE REAL THING
Recorded at Estadio Azteca, Mexico City, 15th May 2011
2. THE FLY
Recorded at Spartan Stadium, East Lancing 26 June 2011
3. MYSTERIOUS WAYS
Recorded at Cape Town Stadium, Cape Town 18 February, 2011
4. MAGNIFICENT
Recorded at Stadion Letzigrund, Zurich, 11 September 2010
5. UNTIL THE END OF THE WORLD
Recorded at Estadio Azteca, Mexico City, 14 May 2011
6. I STILL HAVEN'T FOUND WHAT I'M LOOKING FOR
Recorded at FNB Stadium, Johannesburg, 13 February 2011
7. STAY (FARAWAY, SO CLOSE!)
Recorded at Soldier Field, Chicago, 5 July 2011
8. ONE TREE HILL
Recorded at Mt Smart Stadium, Auckland, 26 November 2010
9. BEAUTIFUL DAY
Recorded at Stadion Maksimir, Zagreb, 10 August 2009
10. ELEVATION
Recorded at Veltins-Arena, Gelsenkirchen, 3 August 2009
11. BAD
Recorded at Stadio Olimpico, Rome, 8 October 2010
DISC TWO
12. ALL I WANT IS YOU/LOVE RESCUE ME
Recorded at ANZ Stadium - Sydney, 14th December 2010
13. THE UNFORGETTABLE FIRE
Recorded at Ullevi Stadion, Gotheborg, 31 July 2009
14. ZOOROPA
15. CITY OF BLINDING LIGHTS
Recorded at Parc Des Sports Charles-Ehrmann, Nice, 15 July 2009
16. MLK/WALK ON
17. ONE
18. WHERE THE STREETS HAVE NO NAME
19. ULTRA VIOLET (LIGHT MY WAY)
Recorded at Estadio Ciudade de Coimbra, Coimbra, 03 October 2010
20. WITH OR WITHOUT YOU
Recorded at Wembley Stadium, London, 14 August 2009
21. MOMENT OF SURRENDER
22. OUT OF CONTROL
UPDATE 30 Maggio: U2.com ha messo a disposizione per il download altre 8 canzoni da U22. Potete trovarle come sempre sotto il profilo (Account Info) del vostro account U2.com! >>>
LINK
Le tracce rilasciate oggi vanno ad aggiungersi alle 4 giÓ disponibili per un totale di 12 canzoni che vi elenchiamo qui di seguito:
Even Better Than The Real Thing
One Tree Hill
All I Want Is You - Love Rescue Me
Unknown Caller (Bonus Track che non farÓ parte del doppio cd)
Magnificent
I Still Havent Found What Im Looking For
Stay (Faraway, So Close)
Elevation
The Unforgettable Fire
City of Blinding Lights
Ultra Violet (Light My Way)
With Or Without You

Fonte |
U2.com